11 Tips For Keeping Your Home Cool In The Sweltering Heat
#1 – Dehumidify
I bet you have heard the term, "It's a dry heat!" before. Sometimes (especially in the monsoon season) it does get a bit muggy.
To feel cooler in high humidity:
Wear loose cotton or other natural fabric that breathes

Choose breathable bedding such as cotton or bamboo
#2 – Unplug
Look around your home; how many electronics/appliances are currently plugged in? Even though it may not seem like much everything that is plugged into an electrical socket produces a small amount of heat. Even the glowing red light of something being turned off isn't enough, there's a small drain of electricity called "vampiric drain". So unplug everything that isn't necessary. Keep your home cool and put a dent into that monthly electricity bill!
#3 – Use Natural Light and High Efficiency Lighting
The sun offers plenty of light during the day time. If you must have light in high areas of use energy efficient bulbs, such as LEDs, are way more efficient. A traditional 100 watt light bulb can increase the heat by 11 degrees per hour in a small room.

Some utility companies offer rebates on LED light bulbs. Here is a list of LED rebates by region.
#4 – Limit Cooking Inside or Cook Outdoors
Try to limit cooking times on the stove or oven before 12 pm, and after 5pm. Pre-planning meals is a great way to assist as well, as using a microwave makes less heat than an appliance. Of course, having a backyard get together with the grill master helps as well, and is fun for your friends and family.
#5 – Close your blinds from late morning until early evening
Using your blinds to block out most of the sun's rays is a no brainer. If some areas of your home face the sun during the extremely hot parts of the day will cool down your home, and keep the A/C from running as often.

Some alternatives to blinds can be blackout shades, or use of high efficient screens. If you find it's too dark when using blinds, you can lower your blinds about 6" to let in some light while still blocking out most of the heat.
#6 – Use Ceiling Fans – The Right Way
Feel like your ceiling fan isn't operating the way it is supposed to be?
There is a switch on most models of ceiling fans that changes the direction of airflow. During the summer months, make the fan is blowing air down, as the other option would be to have the air circulate throughout the room which doesn't help you much does it?
#7 – Shade the outside of your windows
The use of awnings, patio roofs, plants, or umbrellas can be a very affordable way to cut energy costs in your home. At the same time, they will bring some life to the outside of your home. Put a patio set with a stylish umbrella blocking out your office directly outside!

#8 – Vent the Hot Air Out
The use of bathroom, and stove vents aren't just to make an annoying sound. Venting out the humid, warm air will help you save that extra watt or so, and keep everything a bit more live able for everyone in the home.
#9 – Cool Only One Room or Get a Personal Cooling Fan
Keeping areas of your home that aren't in use closed off, with the A/C vents closed as well, and focusing your cooling efforts to in-use rooms will tremendously help keep said rooms cooler. On top of that small, personal fans pointed directly at you will help in the efforts of reducing heat as well.
#10 – Cool Your Roof, Cool Your Home
Cool the top of your house, that is. Have you ever gone out in the sun in a black t-shirt? Or thought about why DIY solar heaters are painted black? Because they absorb heat. So why are all shingles black?
Most shingles are black because they are made out of tar. Cool Roofs are ones that reflect sunlight. They stay cool and reduce the amount of heat transferred to the home. According to the CRRC (Cool Roof Rating Council) if you do not have air conditioning, Cool Roofs can drastically reduce a home's internal temperature. If you do have air conditioning, adding a cool roof can save the you up to 15% off your cooling bill.
So how do you get a cool roof? One of the most affordable ways is to paint your roof with a light colored paint specifically for roofs. Almost every type of roofing can be painted, even shingles, but before you start slinging a paint brush make sure you check with your roofing manufacture to see if painting it voids your warranty.
#11 – Invest in Better Doors, Windows and Insulation
While you are up on the roof, check for more efficient options for windows, doors, and insulation. Single pane windows are drastically less efficient than double pane windows for example. Tighter seals for the doors that connect your home to outside is another great way.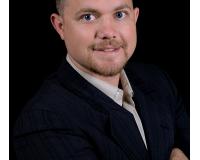 Author:
Charles Brown
Phone:
702-281-5781
Dated:
September 6th 2017
Views:
131
About Charles: ...